New volunteers always required for our Prehistoric/Roman village, near Snape
​Our site runs a programme of spring and summer workshops for schools and youth groups. There are opportunities to research and develop new workshops and buildings during the autumn and winter with a committed and friendly group of volunteers.
If you have skills in: outdoor cooking, green woodworking, weaving, fire lighting, arts and crafts or metalworking then this might be the place for you! If you don't have the skills but have a keen interest then we can train you!
​
We are always pleased to see new faces who might become new volunteers, and happy to welcome you to site on one of our regular working sessions, where you can meet some of the current volunteers and find out a lot more about what we do, why we do it and how you might be able to help us and enjoy helping the children and young people who spend time with us. We're a registered charity linked to Suffolk Archaeology CIC.
"This site has changed the way I see the world"




Hands on Heritage Volunteer
We are always looking for volunteers to help run workshops with visiting children and with general site maintenance. The project has been very successful so far, with youth and school groups having built a variety of Roman and Iron Age style structures including a round house, and we would like to continue to develop the site and teach visiting groups skills such as green woodworking, thatching, survival skills, outdoor cooking, weaving and willow and pottery work. Experienced volunteers are welcome but we do offer, free of charge, full training and DBS (CRB) checks. We ask for a minimum commitment of twelve school visit days per year plus some time on site to help with maintenance. If practical work doesn't appeal and you have management and organisational skills to offer then these would be welcomed too.
If you are interested in joining our diverse and friendly team of volunteers, or have any queries, please look at the recruitment pack, and then either complete the form below, or contact our site manager, Duncan Allan for more information
Up and Coming Projects
Working with holiday groups building and sailing coracles. Training provided.

Woodland management – we have recently taken over a redundant coppice area that we intend to bring back into production over the next few years.

Volunteers, working on our regular Tuesday meet and at other times to suit, will be adding a new building to the site. This will involve full green wood timber framing and the production of wooden shingles for the roof.
What You Get
Rewards in offering young people unique experiences in heritage education.

The support and friendship of a diverse community of volunteers.

Opportunities to develop skills you never knew you had.

A place to retreat from the noise and bustle of modern life.
Volunteers have been 'building' the remains of a Roman villa. This is now finished, and the diggings have been backfilled to be  used as an excavation area for visiting school groups, giving them the opportunity to be an archaeologist in search of evidence for their Roman studies. The first groups are due on site in February 2018, and we'll be posting news and photos as the digs start!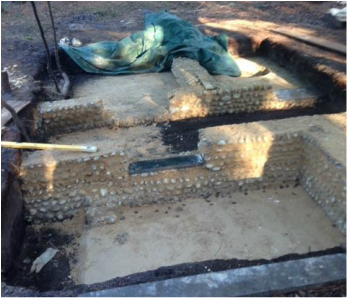 Volunteering Form
 –  check out the documents page for more info before completing the form if you like!